The Rixan Training Experience
We've Something For Everyone
Rixan Automation LLC, the North American Distributor of Mitsubishi Robotics, Denso Robots and Staubli Robots, invites you to join us for SME (Society of Manufacturing Engineers) Certified robot training classes held at our state-of-the-art facility located in Dayton, Ohio. The Manufacturing Engineering Certification Institute of Manufacturing Engineers (MECI/SME) will grant one recertification credit hour for each hour of instruction involved with our training program.
The Rixan Training Experience will enable you to teach points, write robot programs and keep your robot operating in optimal condition! Each class provides information on General Operation, Programming, Start Up and Preventative Maintenance. Attendees receive "hands-on" robot training. On-site Training Classes are also available at a modest charge.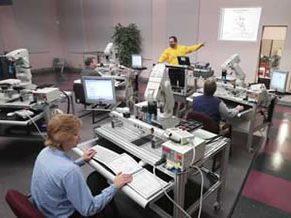 Mitsubishi robot customers for only $1,195.00 per person. We also offer training seats at $1500.00 per seat, subject to availability, for Mitsubishi's worldwide customers.
2019 Training Schedule
February 11 – 12, 2020
April 8 – 9, 2020
May 9 – 10, 2020
August 11 – 12, 2020
October 13 – 14, 2020
December 8 – 9, 2020

Mitsubishi A/S Series Basic Robotics:
2.0 Days (16 Hours)
This course covers the basics of Mitsubishi A/S Series programming language (MELFA IV). The student will learn to use the operating system interface and file system. The student will create, store and test programs. The course covers the integration of the digital I/O, robot and teach pendant operations. Students will gain expertise through the completion of a comprehensive series of workshops covering basic concepts of robot control commands through hands-on applications combined with a robotic work cell. Additionally we cover the periodic maintenance and upkeep procedures for the Mitsubishi A/S Series robot. Students will learn to isolate problems on the A/S Series robot and make quick repairs to minimize downtime. Students will learn the major component systems of the A/S Series robot and how to troubleshoot those systems. Hands-on experience is stressed as well as basic troubleshooting/repair techniques. This course is intended for personnel who will be responsible for maintenance and repair of the A/S Series robot. This course is intended for engineers, programmers, and technicians who will be writing application programs and maintaining existing application programs. Prerequisites: Familiarity with programming techniques and system integration, basic electronics and electrical concepts.
Denso 2 day Basic classes are $1000 for Rixan customers and $1250 for Denso worldwide customers. Advanced classes are $1250 per seat. Students must complete the Basic course before taking the Advanced course.
2019 Training Schedule
April 9 – 10, 2020 Basic
June 9 – 10, 2020 Basic
September 8 – 9, 2020 Basic
November 10 – 11, 2020 Basic

Denso Basic Robotics:
2.0 Days (16 Hours)
This course covers programming using the Denso WINCAPPS III Software. On Day One, the student will learn basic teach pendant operations, teaching positions, running programs in auto mode and how to use the System Manager. The hands on course continues with setting up system projects, setting communications, editing programs, inputting source code and using the Command Builder. Day Two covers setting robot speeds, powering motors, and motion control commands. The course finishes by focusing on I/O use and monitoring, hand open/close functions, palletizing and the importing of offline programs.