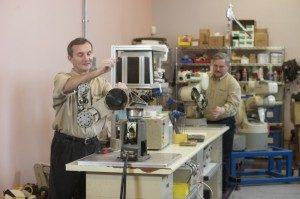 Rixan Automation LLC offers a Preventative Maintenance Service to keep customers' Mitsubishi robots running like new. Rixan's highly trained engineers will perform a preventative maintenance service designed to extend the life of your robot. Rixan also performs Mitsubishi robot repairs at their facility in Dayton, Ohio.
If you have a robot to send in for repair, please contact us so our Service Department will be expecting your robot and can perform a quick turnaround. Please send all repair units to the attention of our Service Repair Department.
SME (SOCIETY OF MANUFACTURING ENGINEERS) CERTIFIED TRAINING
Rixan Automation LLC offers complete training, at your site or at our Dayton, Ohio facility. Classes are four days in duration and cover General Operation, Programming, Start Up and Preventative maintenance. Each topic is discussed in-depth by factory certified trainers. Rixan provides a "hands-on" robotics training system for each class member to enhance the training experience.
DESIGN SERVICES
Rixan Automation LLC offers a variety of design services to its customers. Among these services are robot integration (hardware I/0 integration), end of arm tooling, and AUTOCADtm drawings.
FEASIBILITY STUDIES
Rixan Automation LLC offers feasibility studies which provide customers with suggestions for robot type, end of arm tooling, and I/0 requirements. Documentation of the study including a video is provided.
CONSULTING
Rixan Automation LLC offers a variety of consulting services. These include engineering consulting, programming consulting, and integration consulting. Engineers and sales people are available to answer questions over the phone, or by appointment to meet and discuss applications.
END-OF-ARM TOOLING (E.A.T)
Rixan Automation LLC offers end-of-arm tooling. Our engineers are skilled in the design and manufacturing of end-of-arm tooling with over 40 years of experience in this area.
UPDATE BULLETINS
Rixan Automation LLC offers update bulletins to its customers so that they are aware of any new product or service available to them. These bulletins include the latest RoboWare upgrades, new robots available, new services available, training class schedules, and engineering specification upgrades. Rixan informs its customers of the most up to date technology related to our products so customers receive the best performance possible from their robots.