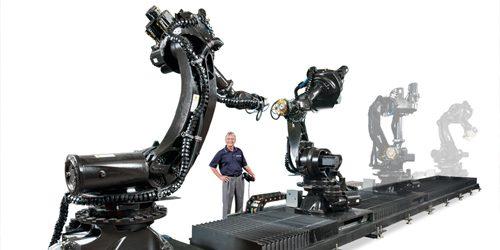 When looking for a robot system, you want to purchase it from a company that has an in-house Engineering Department to support your needs. Rixan Automation, LLC provides their customers with a highly skilled, knowledgeable engineering staff. Rixan's engineers are factory trained and many of our engineers began using robots in the very early years of the industry. This experience serves Rixan well, making an experienced level of application expertise available to Rixan's customers.
Rixan's Engineering Department offers technical support, programming assistance, standard and custom end-of-arm tooling, feasibility studies and system integration. Our Engineering Department has application expertise in a variety of industries including aerospace, automotive, electronics, life sciences, manufacturing, medical, nuclear and many more.
DESIGN SERVICES
Rixan Automation LLC offers a variety of design services to its customers. Among these services are robot integration (hardware I/0 integration), end of arm tooling, SolidWORKS and AutoCAD drawings.
FEASIBILITY STUDIES
Rixan Automation LLC offers feasibility studies which provide customers with suggestions for robot type, end of arm tooling, and I/0 requirements. Documentation of the study including a video is provided.
CONSULTING
Rixan Automation LLC offers a variety of consulting services. These include engineering consulting, programming consulting, and integration consulting. Engineers and sales people are available to answer questions over the phone, or by appointment to meet and discuss applications.
END-OF-ARM TOOLING (E.A.T)
Rixan Automation LLC offers end-of-arm tooling. Our engineers are skilled in the design and manufacturing of end-of-arm tooling with over 40 years of experience in this area.
.